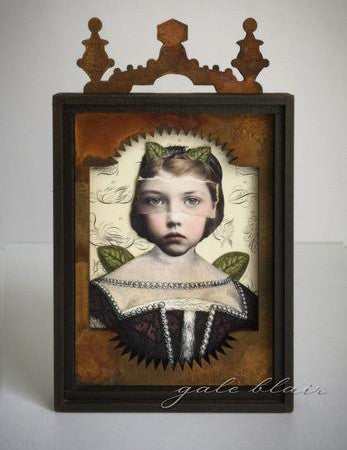 Oh, I love this new Faux Dag Frame.  I used it with one of the Quirky Toppers and I think it ended up looking like something from the Renaissance period.  So mysterious and ancient looking.
I spray painted, once again, all pieces with Oil Rubbed Bronze spray paint (this is a staple step in pretty much all the Alterables I use in my artworks). I spray paint before I assemble.  After spray painting and assembling the frame part, I used a fine grain sandpaper to add a bit of grunge and then antiqued with Stayzon Saddle Brown.  I used the Modern Masters Iron Paint and the Rusting Solution to create the wonderful rust effect on the Quirky Toppers and the center overlay.  Quick directions for my particular method of using the Modern Masters rusting effects is explained in the Folksy Medallions post.
These Faux Dag Frames really finished my artwork in the most splendiforous way!
Gale Blair