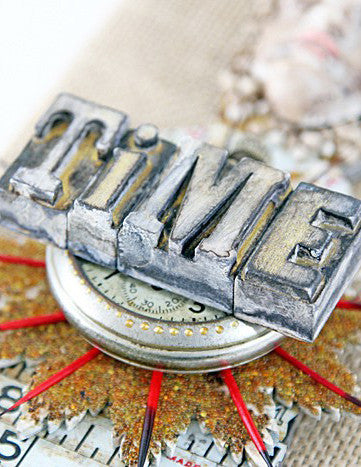 By Tina Walker
Hi! Tina here today

with my

latest PaperWhimsy Amazing Alterables™ project. As usual, I will combine vintage findings, new loves, and

a wonderful Amazing Alterable piece.
To create the 'background' of the Ornate Glove Lg 03 Amazing Alterable, I used several components - old and new. For an interesting texture, I used Prima's Art Stones for the upper part of the hand, glued to the alterable with matte gel and (of course) sprayed with my favorite metallic

sprays.
The lower part of the hand, is covered with pieces of an antique metal tape measure, cut to size. The

measure was a great find at a local antique store and I new it would be perfect for a future project.
To embellish my hand even further, I used part of another Amazing Alterable, Leafy Wreath Medium. I covered the piece with Prima Micro Beads and Matte Gel. I adhered the Wreath to the hand and allowed to dr

y.
On the upper portion of the hand, I used a Relics and Artifacts face, which

inspired me for the theme, 'Time'.
Now that I had a design theme, I added a vintage pocket watc

h and painted letters.
I love pops of RED, so I used several Porcupine Quills glued behind the watch.

I really love how they look, but be very careful - they hurt. :)
Once I was done embellishing my piece, I adhered it to a burlap canvas and is now ready for han

ging.
As always, thank you for taking time out of your busy

schedule

to s

top by. Have a wonderful week!
Hugs, Tina
Design Team