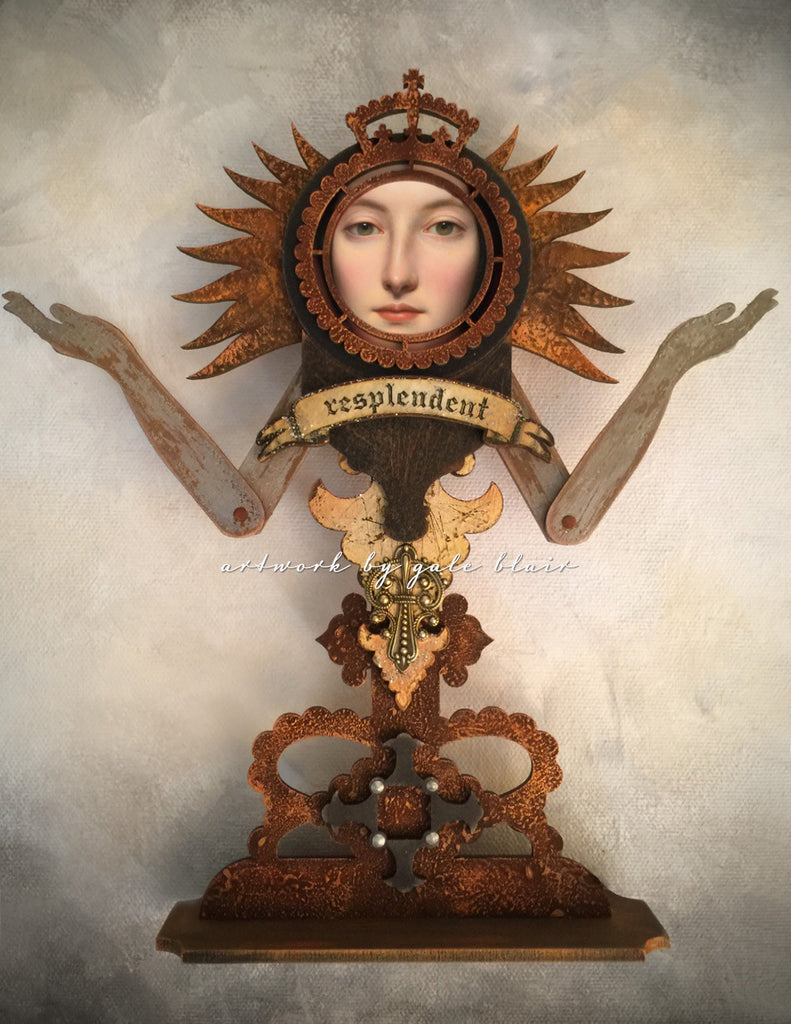 Adoring Angels by Gale Blair
Oh, man, do I love antiquities - particularly in the Gothic and medieval art styles.  These are the styles that influence me the most whether it's designing Amazing Alterables™ or creating my own art. And with Christmas around the corner the thought of medieval style angels with a mysterious and aged look really excited me.  It would any time, really, but especially, now, as we approach the Christmas season.
My Angeli Adorare, "Adoring Angels", are much like patchwork quilts because I used an assortment of Amazing Alterables™ to build them.  A super cool thing about the Amazing Alterables™is that they are deliciously mixable and matchable.
My Adoration angel, above, was pieced together using the Petite Heart Stand, Odd Banner No.2, the wings are Flaming Embellishments (large), Regal Scalloped Frame Round (medium), Word Banners, and an image from Sheet 334.
My Technique:
I always start by spray painting all the alterables - usually with Krylon Oil Rubbed Bronze. Then I'll add some texture paint to pieces that I want to texture (I'm using some stuff I had laying around called Rusty Paper by Viva Decor but there are several texture paints and pastes out there and one of them is probably already sitting on your art table). Once the texture paint  is dry I'll "dry brush" (using my finger) my favorite InkaGold Orange.
Because I'm going for a medieval look I'll usually try to work in some gold gilt and I get the old look by applying the gilt glue randomly on the piece so it isn't completely covered with gilt when I'm done. I pretty much always antique my pieces, after all paint is dried, with a few swipes of sandpaper and StazOn Saddle Brown using a stencil brush. And I'll always find a good spot for some Stickles.
The technique for my Splendor Angel, above, is pretty much the same: spray paint, texture paint, Inka Gold (I used both the Orange and the Iceblue), and some Stickles. The Amazing Alterables™ I used for this angel are the feathered back from Feathered Cottage, Odd Banner No.1, Regal Scalloped Frame Round (medium), Word Banners, face from Sheet 333, Ornate Stand.
My Resplendent Angel, above is pieced together using the Decorative Stand, Ornate Trees (the large one without the stand), the arms from the large Santos Medallion Hanging, Odd Banner No.2, the wings from Curioso Sepolcrale Winged (large), Regal Scalloped Frame Round (medium), Word Banners and an image from my personal collection (images from Sheet 334 will work splendidly with the Regal Scalloped Frame Round in the medium size). 
I used the same technique on these pieces as I did on the others.
And now I am thoroughly hooked creating my Angeli Adorare. Since I could never afford to purchase the gorgeous antiquities that resonate so passionately with me, creating my own is the next best thing!
TTFN, dear art friends!
xo