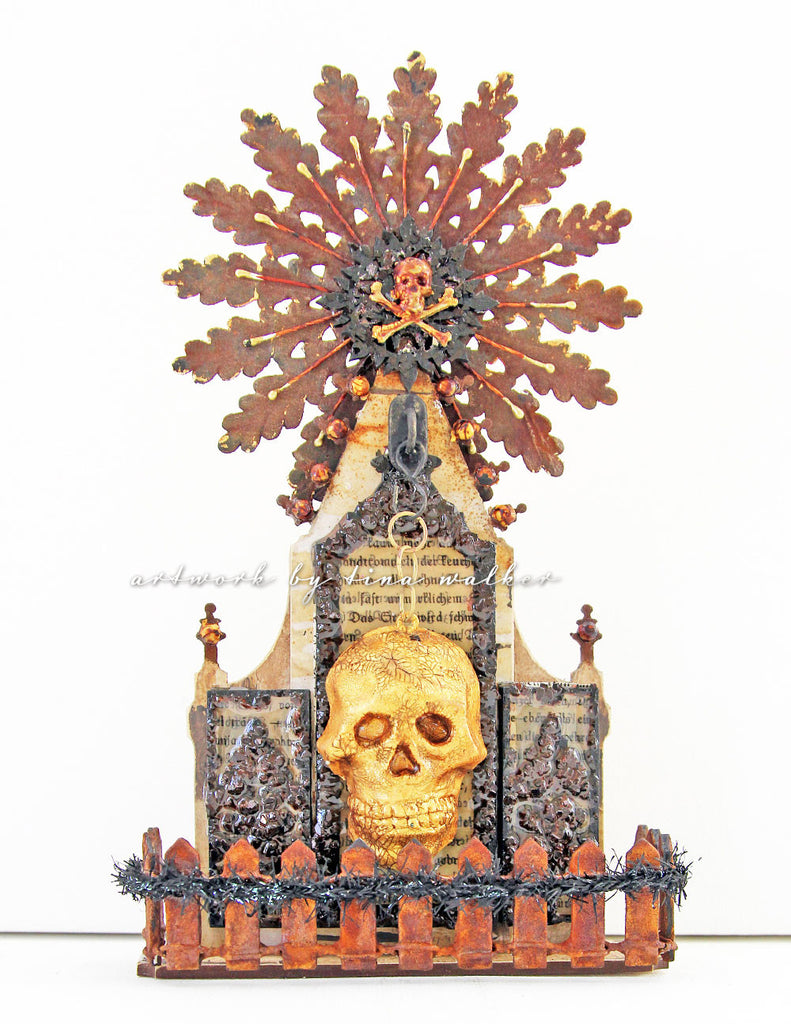 Hello and Hola!
Autumn is my favorite time of the year.  I love the colors, the smells, the weather and most of all, the holiday season - Halloween!  Creating Halloween projects is something I look forward to each year and this year is no exception.  It's all about spooky, eerie, and mysterious!
This years project was inspired by skulls.  Nothing said Halloween more than creepy skulls.
The skull is a Relics & Artifacts® piece, painted with crackle paint and aged with Distress Stain.  Check out this detail.
My skull needs a gate to keep all unworldly beings from escaping, so the Amazing Alterable, 'Gothic Window Frame' and 'Fancy Window No. 1' was a perfect representation of a Hallow's Eve gate.
To create the windows, the frame of each window was 'glitterfied' (I think I just made up a word).  I backed each frame with a sheet of vintage German paper, then added a layer of clear casting resin.  When you apply clear resin to paper, the paper becomes transparent!  How cool! 
The covering of each background piece was a scrap piece of rusted paper.  I had been using a sheet of deli paper underneath several pieces that were being rusted.  I loved the randomness of the rust pattern and thought it was perfect for my spooky project.
To keep with the rusty theme, I rusted a large Dresden piece from Relics & Artifacts®.  A few more bits and bobs and my Gate Keeper is complete.
I hope you enjoyed my Hallow's Eve project.  As always, thanks for stopping by!  Have a great day!
Hugs,
Tina
Save
Design Team